Program Overview
Microfinance is an innovative strategy for poverty alleviation in developing countries that provides financial services for the economically active poor. Nearly three billion poor people lack access to basic financial services. The best anti-poverty strategies are those that recognize the power that people have to improve their lives. Access to financial services – whether in the form of savings, credit, money transfers or insurance – is a fundamental tool for improving a family's productive capacity. When poor people have access to financial services, they invest in assets such as sending their children to school, seeking health care and more nutritious food, and building income-earning potential by investing in their own enterprises. 
Curriculum
Undergraduate course offered by the Department of Economics each spring—Eco 203, Microfinance (3 credits)
Speaker Series
Interdisciplinary lecture series featuring leading microfinance practitioners and scholars
Field Immersion
This program is a 10-day travel experience visiting microfinance institutions in different global regions. Faculty and students have traveled to Honduras, Peru, Ghana, Cambodia, Zambia and Kenya.
Technology Projects
Teams of students collaborate on innovative technology development projects in partnership with microfinance institutions abroad.
Student Club
Students have a vibrant and active campus organization. Activities include online visits to microfinance organizations, fundraising for microfinance institutions in the developing world, assisting local microentrepreneurs to grow their business, and inviting practitioners to share their expertise and best practices on campus.
Research and Publications
The Program sponsors faculty and student research on the microfinance industry.  The first scholarly volume of articles, "Moving Beyond Storytelling: Emerging Research in Microfinance," outlines a multidisciplinary agenda for the field. Included are articles written by Lehigh faculty and other leading microfinance academics and practitioners. Additionally, Lehigh students collaborated with faculty in writing what is currently the only "Introduction to Microfinance" textbook targeted for undergraduates.
Workshops and Conferences
The Program hosts an ongoing series of workshops in targeted innovation needs areas in the microfinance industry. Recent workshop topics have included management information systems technologies, and the prospects for microfinance growth in Africa. Last spring, the Martindale Center co-organized a major international Microfinance industry workshop as a forum for microfinance industry professionals to come together to discuss the future of the industry, and to try to map the way forward. The workshop led to the publication of an industry White Paper written by the four co-organizers (Ira Lieberma, Lipam International, Paul DiLeo and Anna Kanze, Grassroots Capital Management, Todd A. Watkins, Executive Director of the Martindale Center for the Study of Private Enterprise), examining the key questions discussed at workshop, and the lessons that can be extracted for microfinance and impact investing, more broadly. The workshop also led to a series of blogs. Links below.
Upcoming Workshops
Industry Workshop (Fall 2021) October 14, 15 & 16 - postponed until April 20-22, 2022
Previously Held Workshops
Industry Workshop (Spring 2017)

The Microfinance Industry: Revolution or Footnote?  Lessons for the Next 10 Years

An international microfinance industry workshop, hosted and co-produced by The Martindale Center, Calmeadow and the Center for Financial Inclusion, and Lipam International.  
For more information, please contact Todd A. Watkins.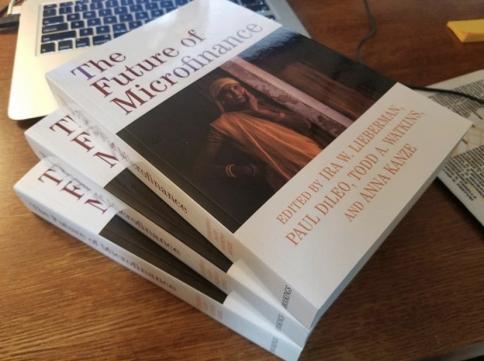 "The Future of Microfinance"
A Microfinance conference attended by 34 leaders in the sector and hosted by The Martindale Center, Lehigh University 2 years ago has led to the publication of a new book "The Future of Microfinance".