Lehigh University's Vistex Institute for Executive Learning & Research offers open enrollment programs for individuals who want to add to their skills, build best practices, or develop their networks.  These programs are built for leaders and managers who want to be innovative, effective, knowledgeable, and have a bottom line impact on their organizations.  
*Individual programs are being added regularly, so please check back for new program offerings. 
Project Management
Finance & Accounting
The Essentials of Finance: A Manager's Guide
Leadership & Negotiation
Supply Chain Management
Certificate Programs
Hear From Our Students
Interested in learning more about what our students have to say?
Vistex Institute for Executive Learning & Research logo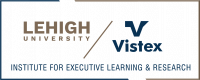 Register today for one of our programs.
Looking to learn more?
We're here to answer any questions you may have. We look forward to hearing from you soon!