Mission Statement
Recognizing the importance of accounting information to the efficient allocation of resources in the American economy, the mission of Lehigh's Accounting Program is to provide rigorous accounting education that prepares high-quality undergraduate and graduate students with diverse backgrounds for life-long learning and positions of leadership in the business community, and to emphasize faculty research efforts that contribute to the body of knowledge in accounting.

Consistent with the mission of the College of Business and Lehigh University, the mission of the Accounting Program is offered with the intent of being recognized as one of a select group of programs in the United States where an educational experience of the highest possible quality is obtainable in pursuit of applicable professional requirements.
Undergraduate Accounting Major
Affiliations
To learn more about the Department of Accounting please contact 610.758.3451.
AACSB Logo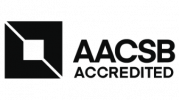 The College of Business is accredited by AACSB International.