Executive Certificate in Management & Leadership
While most companies agree that talent is their most important asset, they aren't investing enough in development. Whether for individuals identified as high potentials by their organizations, or for individuals who choose to advance their own careers, the Executive Certificate in Management and Leadership provides comprehensive education in business acumen and leadership. It is formal recognition and acknowledgement of a strong commitment to professional development.
How do I Earn an Executive Certificate?
To earn an Executive Certificate, you must complete four executive education programs of your choosing within a three-year period.
Programs are offered online throughout the year and can be completed in any order that works best with your schedule. You may indicate your intent to earn an Executive Certificate by emailing us at execed@lehigh.edu prior to completing your first program or any time after.
Upcoming Programs
Please visit our Programs for Individuals page to see all of our currently scheduled programs, all of which can be applied to your custom-designed certificate program.
Who Should Attend?
This certificate was designed for mid-level working professionals. Participants come from varied backgrounds with:
at least 3 to 5 years of work experience
some operations, corporate, or management responsibility in their current role
a degree in any discipline, including business
the aptitude and ambition to advance within their organization
Which Individual Programs Should I Enroll in?
The Executive Certificate in Management & Leadership is a customized credential. We will work with you to select the four programs that best meet your professional goals and your schedule. For organizations interested in sending multiple participants, we can design a custom set of four programs, or allow individuals to choose their own. Below is a sample track that focuses on business acumen, strategy and leadership skills.
Program Requirements:
Completion of 4 individual programs
Must be completed within 3 years
Sample Track:
Program Testimonials:
Hear more from those who have earned the Executive Certificate in Management & Leadership:
What is the cost and what does it include?
You pay the cost of each of the individual programs you choose.  All of our available discounts, including those offered to organizations that send multiple participants through the certificate series, can be applied. More details on discounts can be found in our FAQs.  
The program fee includes program materials, exceptional learning opportunities with Lehigh Faculty and external subject matter experts, and networking with a diverse group of fellow participants.
Vistex Institute for Executive Learning & Research logo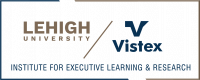 Register today for one of our programs.
Looking to learn more?
We're here to answer any questions you may have. We look forward to hearing from you soon!