Decision and Technology Analytics (DATA)
Undergraduate FinTech Minor Overview
FinTech is a new emerging area composed of the intersection of information technology and financial services. Many disruptive technologies such as cryptocurrency, business analytics, blockchain, mobile banking, machine learning, and mobile trading have been applied in the financial services sector to create new and improved products and to increase efficiency. Students in this minor will learn how to leverage technology to create and improve financial services.
For students enrolled in the following degree programs:
Bachelor of Science in Business and Economics
Bachelor of Science in Integrated Business and Engineering
Bachelor of Science in Computer Science and Business
Program Overview (12 credits)
All courses are required, pre-reqs are enforced.
CSE 12: Survey Of Computer Science (Pre-req: none)
or
CSE 17: Programming & Data Structures (Pre-reqs: CSE 2 and (CSE 1 or CSE 12 or ENG 10))
BIS 352: Advances Topics in Business Analytics (Pre-reqs: BIS 111 and ECO 45) [Fall only]
FIN 330: Financial Markets and Institutions (Pre-reqs: FIN 323 and FIN 328)
BIS/FIN 388: FINTECH Capstone (Pre-reqs: CSE 12 or 17, BIS 324, BIS 348, BIS 352, FIN 330) [Spring only]
FinTech Minor Comprehensive View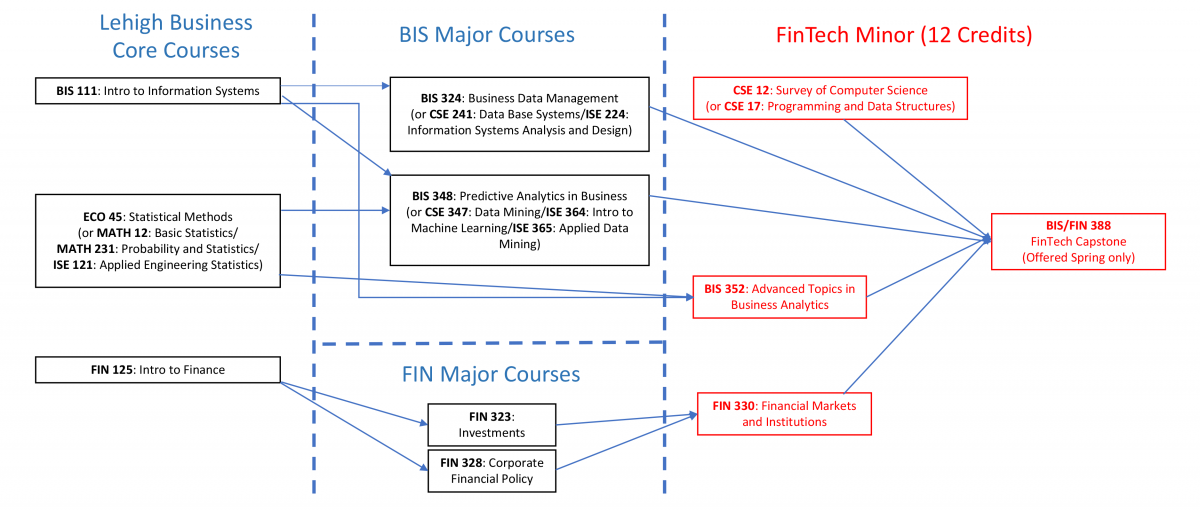 Program Directors
Kathleen Hanley
Professor in the Department of Finance
kwh315@lehigh.edu
Troy Adair
Professor of Practice in the Department of Decision Technology and Analytics (DATA)
tra418@lehigh.edu
To declare the FinTech Minor, please contact:
Julie Bright
Department of Finance, RBC 471
jms6@lehigh.edu